To celebrate their third anniversary, Salt is offering 3 new items to their menu. Not only that, but you can now reserve SALT's original Kite Beach and Abu Dhabi locations for your very own birthday bash, or even add a little SALT to your event with your very own SALT Airstream serving Softies and Milkshakes!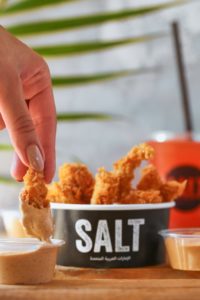 We all know the best things in life come in threes, and although it's not often those three things come all at once, that's exactly what's happening. SALT is the urban lifestyle brand that serves simple but premium food, and savours the open spaces of the UAE, and to celebrate SALT's third birthday, three new menu items will be added across all five UAE outlets.
New Menu Items
SALT is adding – drum roll please! – the Crispy Chicken Slider, homemade Chicken Strips, and the Brownie Softie to their already mouth-watering menu, because even though it's our birthday, we're giving you the presents!
The Crispy Chicken Slider, made up of deliciously crispy chicken strips stacked with pickles, lettuce, and a new special sauce is just AED 30. Marinated premium strips of battered and breaded chicken breast at a very tempting AED 25 make up SALT's Chicken Strips, and for the proverbial cherry-on-top, SALT's Brownie Softie, a perfect 'sweet mess' of pure indulgence for just AED 25, is made of chocolate.
ice cream, topped with home-baked brownies, and drizzled with hot-chocolate caramel fudge. You can even make it a milkshake for an additional AED 5!
Are you licking your lips too?
Salt is Celebrating Their Birthday, and Now You Can Celebrate Yours with Them Too!
Kite Beach is where it all began for SALT, so they know what they're talking about when they say it's an awesome location for a party, while the large, open, green spaces of Umm Al Emarat Park in Abu Dhabi allow for unbounded fun and festivities. SALT is introducing the Kid's Birthday Package at these two locations for your very own birthday celebrations, because the little Salters have the biggest importance.
For a group of 20 or more kids, each birthday package includes professional photography and videography, so every moment can be savoured, as well as your own dedicated party area, SALT birthday goodie bags, balloons, your very own signage, birthday activities, and lots of fun games, all for just AED 200 per person. Big kids even get 10% off during the festivities, because the adults deserve to celebrate, relax, and enjoy the party too. For enquiries and bookings email birthdays@indpt.com.