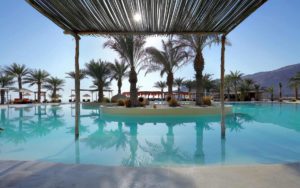 With this year's Oman National Day falling on a weekend, there couldn't be a better time to plan a quick getaway. Guests can experience the Omani celebrations with Senses Zighy Bay's series of activities commemorating the country's traditions and heritage throughout the months of October and November. The sustainably focused resort – Zighy Bay, is renowned for its-out-of-the-ordinary experiences and this month will be highlighting the country's true culture and hospitality.
Starting in mid-October, every Wednesdays, Fridays and Saturdays afternoon from 4:30 pm, guests can enjoy true Arabic ambience through an array of local activities at the Boutique. Guests can get indigenous designs of henna painted on their hands for only OMR 7 per guest per henna paint, learn to tie the Omani Masar, attend a story-telling with their little ones by a local, or enjoy drinking the free flow of organic Qahwa as their afternoon coffee and local Omani lemonade too while listening to folkloric Arabic music. A pair of 'Jamals' or camels would make an appearance for guests to learn more of these beautiful creatures.
Wellness and culture seekers can arrange for the three- or five-day programmes of Sense of Oman treatments. The treatments are based on blends of indigenous plants, herbs and fruits that refresh, revitalise and nourish the body and soul. The treatments include a 60-minute Arabian Facial, 90-minute Signature Massage and a 60-minute Traditional Moroccan Hammam experience. The feeling of well-being will heighten guest's enjoyment of the stunning views out to the calm Arabian Gulf and dramatic mountain backdrop.
As a tribute to the Sultanate and its culinary world, guests are invited to experience the authenticity and ambience of local favours. Gastronomes will have a feast at the 1001 Nights themed set dinner menu at the Spice Market. Robust appetites will be tempted by the wide selection of Arabic dishes offered from the buffet on selected evenings. Guests who enjoy some hands-on cuisine can sign up for an Arabic cooking class or watch their food being grilled with an in-villa private barbecue.
Adventure seekers can sign up for the bespoke Sense through the Lens package, which allows guests to experience Oman by land, air and sea. There's an exhilarating 4X4 off-roading trip to Sabatyn mountain during the day or for a sunset adventure. Early birds can paraglide or have a thrilling flight by Microlight over the Musandam peninsula and enjoy a bird's eye view of the Arabian Gulf. Water babies can go snorkelling and enjoy the colourful sea life in the calm water of Zighy Bay.
Paying homage to the indigenous Omani architecture and set against the dramatic Hajar Mountains, the classic village-inspired accommodations and private marina position Six Senses Zighy Bay as the ideal spot to experience the Omani festivities. Only a two-hour drive from Dubai along a scenic mountainous road, this trip will surely awaken every traveller's senses with its memorable scenery from start to finish.