Bol Gappa is a Bollywood themed Indian fusion cuisine bistro serving a delicious array of contemporary Indian cuisine in a relaxed setting. Quite contrary to popular perception, Bol Gappa is not derived from the name of the popular Indian chat Gol Gappa. The restaurant gets its name from BOL of Bollywood and Gappa from the hindi word 'gappa' meaning Gossip.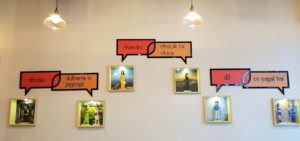 Two years ago when I visited their first outlet in Riverland, Dubai Parks and Resorts – the brand made a strong first impression. Two years later as I visit their second outlet in mainland Dubai, the impression gets even better.
A fabulous movie themed restaurant that has managed to carve a niche for itself in the over-competitive restaurant scene in Dubai, Bol Gappa has reached where it has, due to the quality of its service and uniqueness of its offering.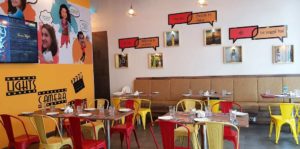 The second outlet is situated in Karama, little off the Head Post office street. A well-thought out location that solves many of the parking woes that diners always face in Karama.  The space is relatively smaller compared to their flagship outlet at DPR – that offers alfresco seating options.
The visit
The drama commences as you step in to their premise – right from the punchy Bollywood movie dialogues screaming at you from the facades to the miniature icons of Gabbar singh and Karishma Kapoor dazzling from glass enclosures within the walls.
Drinks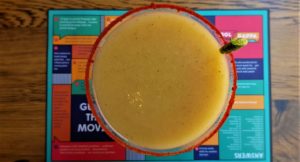 I started off with a peppy Guava Chili drink. This is probably the best thing I had after Chili Guava Kulfi at Kulfi House. It had fresh Guavas and in-house Indian spices blended into a lovely sweet spicy drink that tantalized the taste buds.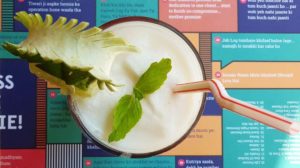 I quickly followed that up with a Frozen Coconut Limeade – a delightful concoction of coconut cream, hint of lime and blended ice.  This lovely drink had me going in for a repeat. All the drinks and items on the menu have been thoughtfully conceptualized by proprietor – a talented cook, herself.
Appetizers
In appetizers I had the Bol Gappa popular Chicken Khurana and Paneer Satay.
Chicken Khurana – Boneless chicken marinated with Indian spices, deep fried and tossed with onion, bell pepper, in a spicy red masala tempered with curry leaves and mustard seeds. Initially when they served this, quantity wise I felt it was bit too much for a single diner and thought i'd have to take away some. But as I started eating it, the taste was just fantastic. I finished the plate full much quicker than I could imagine leaving behind only a few shreds of onion and curry leaves.  This is a highly recommended starter if dining here.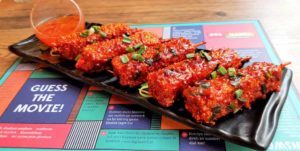 Paneer Satay – a veggie version one can say of chicken satay. It had fresh home-made  cottage cheese coated with sesame seeds on skewers. It was served with hot garlic sauce on side. Absolutely tantalizing and toothsome. Another highly recommended starter.
Main course 
In the main course I had Gosht Dum Biryani, Paneer Kurchan and Lachcha paratha.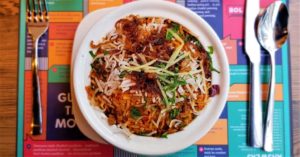 The Gosht Dum Biryani is one of the best I've tasted in this side of town. It had large pieces of very tender and juicy lamb cooked to perfection in a bed of flavorful Basmati rice with aromatic homemade spices. It was sided with all the trimmings of Biryani including papad, raita and pickle.
The Paneer Kurchan was again soft, rich and flavorful gravy that went extremely well with the Indian breads. If it was a tad spicier, it would have been killer. Nevertheless a fab side for bread.
Service – Service is consistent irrespective of which outlet you eat in and that is a good thing. The servers were a friendly and helpful bunch. Orders came on time and the waiters were always on the watch and quick to assist diners with orders. All credits to the owner  for the immense training she has imparted to the staff on customer service.
Value – Bol Gappa have kept their prices very competitive despite the high quality of food they serve. This can go a great way in the brands success especially at a time when people are looking for more taste and premier service at a value pricing.