If you visit a Taj property just about anywhere in the world, you can rest assured that you'd be served with only the highest levels of hospitality and service. Bombay Brasserie is one shining example of the groups impeccable standards in hospitality – one that is truly representative of the Indian culture which always pay the highest regard for guests. Hospitality is so ingrained in the Indian culture that guests are seen as some forms of Gods – Athithi Devo Bhav
First visit…
My first visit to Bombay Brasserie was in 2017.  I was with a media entourage attending a party thrown in by the Taiwan Ministry of Tourism.  I still vividly remember the evening of amazing fun, entertainment and great food. The service and cuisine part really stood out as most remarkable that day and was highly appreciated by all guests.
So, when I recently got an opportunity to try their a la carte menu and do a full fledged review, I put that on the top priority in my review calendar.
Bombay Brasserie is undoubtedly one of Dubai's best Indian restaurant to experience the authentic Indian hospitality and food culture and relish some of the best culinary treats from the subcontinent.  As the restaurants official web-page rightly states "Bombay Brasserie is a tryst between classic and contemporary. A dining experience that promises drama, authenticity & innovation"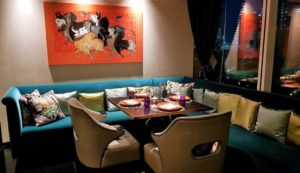 I certainly enjoyed each one of those elements and a whole lot more during my visit. The service was unmistakably Taj with the staff making sure that me and my dining companion had an unforgettable time.  The ambiance was perky, vivacious and contemporary and the food – truly extraordinary.
Service
First off, Taj impresses you from the very moment you step into the property. Right from the valet staff that open your car door, to the door man that beckons you in with a smile, to the lobby staff that usher you to the elevators, to the waitresses at the restaurant  – Bombay Brasserie sure makes a strong impression.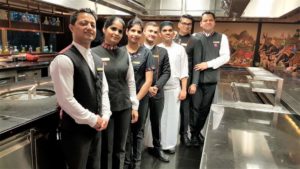 We were welcomed by the ever friendly Vinitha – the restaurant supervisor. She led us to the best table in the house with gorgeous views of the Dubai skyline. We were then  attended to by Dolly Kumari – our serveur de table. She was a very jovial, friendly and warm young lady, who took great care of the details and ensured we had the best dining experience.  Both Vinithra and Dolly were on their toes ensuring orders reached on time and there was a steady flow of nibbles and food. While they were at it, Amit – the waiter with a friendly smile ensured the table was replenished regularly with house pours. What we will, however always remember is the Birthday surprise put together by the staff after they came to know about my dining companions birthday.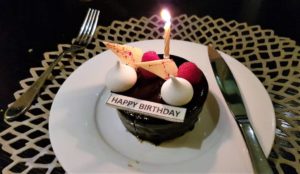 The service was overall impressive and Bombay Brasserie team deserves a full 5/5 for that. They went above and beyond expectations to deliver remarkable service throughout. Not surprising as the team is manned by an experienced Taj Veteran – Sachin Hassan, who came to work even on his off duty day, just so he could meet us.
There is no dearth of fancy places to dine in Dubai, but it's the people that make a place awesome almost always! In that respect Taj Hotel stands out, for it is known to employ some of the best hospitality professionals in the country.
Ambiance
Slick and perky with vibrant colors and rich Indian accents visible right from the time you walk into the lobby. Colorful figurines set the tone as you step in.  Large embossed prints on the walls and candles in steel encasements lead the way to the inside. Some of those design accents are visible on the flooring too. The dramaticity of the setting gets further accentuated by the mood lit-interiors, which throw in focused lights on the intensely colorful wall paintings and murals.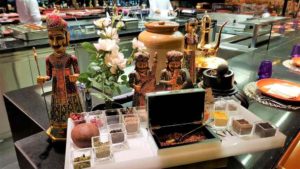 More metal figurines wielding swords, spears and trumpets standing in reverence along with statuettes of musicians carrying traditional instruments – all make it seem like you entered the regal precincts of a rulers court. If that were not enough, you'l also see an Indian battlefield complete with the king, foot soldiers, elephants, chariots and war paraphernalia come to life through a vivacious wall painting. Tiny jars of colourful Indian spices like red chilly powder, turmeric, cinnamon, coriander powder etc are place on the counters across the open kitchen. Quite representative of the glorious spice culture of the Indian subcontinent, i must say!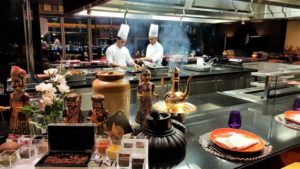 In the main dining area you'll also witness some drama unfold from the open kitchen where the culinary team are in the height of their action. Strategically placed tall orange colored stools at the counters allow guests to catch a glimpse of the live culinary action. Diners can also choose a table by the window and enjoy remarkable views of the Dubai skyline.
Gorgeously arranged tables, comfy sofas, rich and colorful satin cushions, candle lighting -all add a touch of class, sophistication and style to the dining experience. The candle-lit tables make the milieu quite relaxed, intimate and romantic.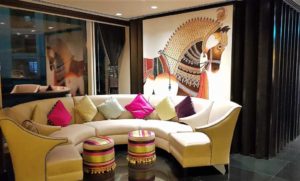 The Pours
As we usually do, we started off our dining indulgence with a glass of cocktail Anandmath – a concoction of rum, passionfruit, mint, honey syrup and soda. My dining partner went for the popular Bombay Blazer – a bright pink colored flaming gin cocktail mixed with rose syrup and pink guava.
The Food
Bombay Brasserie had several set and a la carte menus to choose from suiting different tastes. We chose the BB Samudra Manthan – a sea food menu and BB Madhushala – a vegetarian tasting menu.
Starters
The Samudra Manth menu offered an interesting line up of starters. It comprised of Tawa Scallops, Malabar Crab, Bhatti Prawns & Sarson Maach.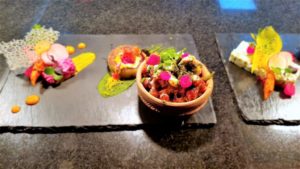 Tawa scallops – spiced scallops dressed in tomato-lentil relish soaked up all the flavour from the spices and added a sweet-spicy twist to the dish.
Malabar Crab – Truly Malabar style fresh crab meat with curry leaves and pepper. A traditional dish with contemporary treatment, and I loved it!
Bhatti Prawns – Spicy prawns chargrilled to perfection were an absolute delight to savour. I wished I got a plate full of that. They were irresistible!
Sarson Maach – Scottish salmon with chilli and youghurt. Tangy and delicious, thanks to the chili yoghurt mix!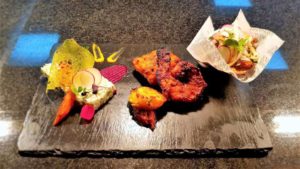 Channa Chaat – The famous Indian street food revisited! A modern interpretation of the classic chaat, it was quite an interesting take with tamarind and dry pomegranate.
Khurmani Ki Tikki – An apricot filled potato cake with youghurt and tamarind.  This starter hit the right spots between sweet and tangy and was absolutely delicious.
Bhatti ki Subzi –  spice rubbed grilled asparagus and avocado. The sweetness and spiciness somehow complimented each other and made for a great starter.
Apple Pachadi – A lip smacking starter with all the sweet flavours of fruit and tanginess of pachadi.
Ghobi Tukhra Chat – Crispy fried gobis (Cauliflower) tossed with tamarind, onion and pepper.  Being a lover of cauliflower I relished this dish. Again full points for this one.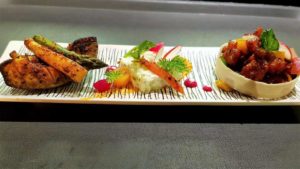 Mains
BB Madhushala
For the mains, Zaitooni Paneer Tikka was served along with Black lentils, basmati rice, raita and tandoori roti.  My dining partner who is a great fan of black lentils and paneer was all praise of this dish which made me reach out for some, myself! The Panner tikka was absolutely delicious. Rich in flavour, thick in consistency and cooked to perfection– the tikka made for a perfect side with the hot and delicious Indian breads. The black lentil curry too was perfect in consistency and packed with the right flavours.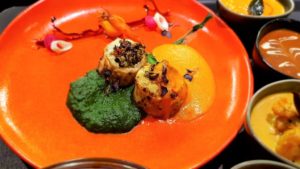 BB Samudra Manthan
As a sea food lover, I had a complete feast with this dish. From the very name Samudra which in sanksrit means SEA, the Samudramath had the very best from the great oceans, prepared in culinary finesse and presented in the most elegant manner.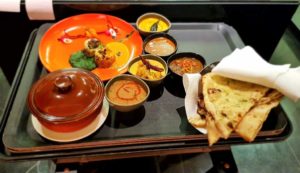 The Samudra Manthan came with Cochin Lobster Curry, Kagaz Wali Machi, Jhinga Allepey Curry, Prawn Biryani and Dal Tadka. Tandoori breads, basmati and raita was also served.
Cochin Lobster Curry – In one word – remarkable. It was certainly one of the best ever lobster curry I'd tasted in any restaurant in this part of the world. Being from the state of Kerala myself, I have very high standards for seafood and Bombay Brasseries Lobster curry certainly impressed beyond words. The floating coconut curry made for a delicious, creamy dish and the curry leaves added some texture to it. 5/5
Kagaz Wali Machi – one of my favourite fish – Sea bass poached in turmeric. It was succulent, tender and totally appetizing.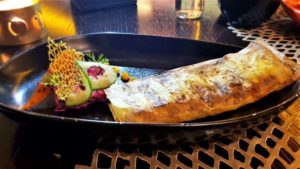 Jhinga Allepey Curry – Tangy prawns with green mango was quite a beautiful combination of flavours that burst in the mouth with every spoonful.
Prawns Biryani – Dum cooked basmati rice that oozed out aroma and tasted as amazing as prawn biryani should taste. The rice was rich and flavourful and filled with lots of perfectly cooked prawns dressed in the best spices one can expect. It turned out to be one of the key highlights of my dining indulgence and further promoted my love for seafood biryani.
Dal Tadka – Dal curry as perfect as you would love it, peppered with flavorful Indian spices, dry red chilly and garlic. It made for a perfect accompaniment with the delicious tandoori bread.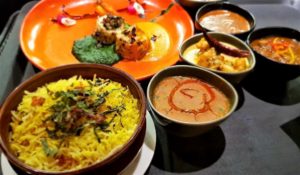 Desserts
One of the things that really stood out from my previous visit was the dessert. At that time I remember enjoying the Rasmalai so much that I even requested some for take away. The taste was quite like how my dining partner made her Paneer Kheer – remarkable.  So needless to say, this time I eagerly looked forward to the dessert tasting at the end of the meal.
We were served with Angoori Rasmalai and Matka Firni. Surprisingly, this time both missed the mark. I had great expectations from their desserts but I can only grade them OKAY or average, not excellent or extraordinary like 99 percent of the other dishes served at Bombay Brasserie. My dining partner however found the Gulab Jamun really good.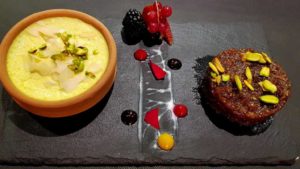 Verdict :
Bombay Brasserie is one of the best Indian Fine dining restaurant in Dubai offering a lip-smacking array of Indian delicacies in a chick and contemporary setting, with a tastefully done up interiors and a culinary staff that excel at what they do and to top it all – impressive service and hospitality that is refreshingly Indian.
Gallery
If You're Going
Need to know
Cuisine: Indian, North Indian
Where: 4th Floor, Taj Dubai, Burj Khalifa Street, Business Bay, Dubai
Hours:  Today  12:30PM to 3PM, 6PM to 12Midnight
Atmosphere:  Slick decor, Vibrant hues, satin cushions, comfy chairs, mood lighting
Parking:  Valet Parking Available
Prices: AED 400 for two people (approx.)
Credit cards: Cash, Cards accepted
Sound level: Mild
Wheelchair access:  Accessible
Service: Remarkable
Recommended:  BB Samudra Manthan, BB Madhushala
Additional Info: Full Bar, Private dining area, WiFi Available
Reservations:  04 4383222

Disclaimer / Voluntary Disclosure
This review was sponsored by Taj Hotels Group. Though the meal was complimentary, all photos, views and opinions are our own, as always. The restaurant had no influence on the content of this article. Neither there is any form of cooperation between us, nor I am obliged to publish anything. I have not received any monetary payment in lieu of this review. All images used are courtesy of Blogliterati.com, unless stated otherwise. The images may not be reproduced without explicit permission/consent from the site owner.