A tete-a-tete with Celebrity Chef Sweety Singh
The mastermind behind the "Art of Spice" Indian night at Pullman Dubai Creek City Centre, Celebrity Chef Sweety Singh is back in town to add some extra delicious dishes to the popular Punjabi buffet menu.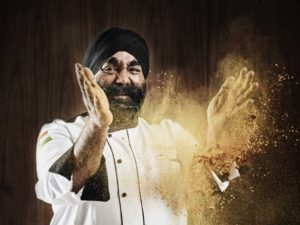 Affectionately called "Sweety", a trade name he adopted after Gautam Anand, General Manager of Sheraton ITC Hotels jokingly called him that, Chef Harjinder "Sweety" Singh has served his scrumptious food to famous celebrities like Shahrukh Khan, Sachin Tendulkar, Shikhar Dhawan, Anupam Kher, Sajid Khan, Anil Kapoor, Dharmendra, Yuvraj Singh, Daler Mehndi to name a few.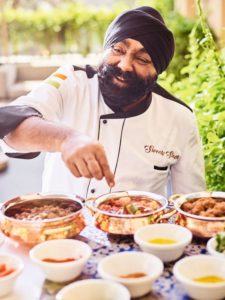 The corporate chef of ITC group, Chef Manjeet Singh Gill found the cooking talent in him and after tasting his food continuously for a week at his famed Dhaaba. He thereafter offered him a chance to conduct food festivals in ITC Group of Hotels. Since then he has not looked back.
He claims he inherited his unique style of cooking from his father Santokh Singh, who started by selling Maa Ki Dal and Mutton Curry, Kadhi and Baigan Bharta from the back of a bicycle in 1956.  "When his eyesight was failing because of health issues," Sweety remembers, "he could tell the cooks how much masala to add just by smelling the vapours coming out of the dishes being prepared."
In a hearty discussion with me, he even vividly remembers the day when he shocked his teachers by saying he was dropping out of school to join his father at their family dhaba. The passion to cook great food was there in him from a really young age and that only grew stronger over time. According to him, Punjabi food has been typecast as rich, heavy, oily and greasy. For the great chef with magical hands, the stereotyping couldn't be more false as authentic, "homemade Punjabi food is not heavy but wholesome".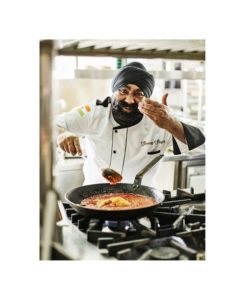 According to him, restaurateurs across the globe have tried to piggyback on the fame of Punjabi cuisine by opening Punjabi Restaurants and claiming they serve authentic Punjabi Cuisine. However he says – most of them don't even understand the basic essence of Punjabi cuisine – which is about healthy and tasty food using very simple spices used in the right manner and proportion.
Over the years Chef Sweety Singh rose as the ambassador of Punjabi street cuisine across India and abroad. A gifted culinary artist, Chef Sweety Singh believes in extracting swaad (umami) without smothering preparations with tomato puree, full-fat cream and butter – the standard taste enhancers employed by restaurants claiming to offer "authentic" Punjabi cuisine. Chef Sweety does not use any cashew, almond, saffron, and food colour in any of his dishes. And being a puritan, he uses ghee in abundance his cooking.
Chef Sweety Singh has been covered by Discovery Channel for a show named, Rhodes Across India by Gary Rhodes for Dishing out some great Punjabi food recipes. He was also part of a food program called Feeding Frenzy for NDTV Good Times and  Khaana Khazaana for Zee Network.
The "Art of Spices" Menu at Medley, Pullman Deira City Centre
The new dishes at Medley Restaurant, Pullman Deira City Centre are part of a summer overhaul of the current menu and have been selected as they are authentic slow-cooking dishes which are made in homes across the world. They are packed full of flavor and unique in taste.
Chef Sweety's new signature recipes have been developed and perfected throughout his career. The celebrity chef has infused the "Art of Spice" menu with Bhunna makhni Kukkad, Paratdar Bharwa Paneer Tikka, Makhni Shagna Wali Daal and Kesari Halwa.
From August 8th until 18th the guest can find a lunch and dinner homemade set menu and also they can experience a feast on traditional Indian food every Friday between 7-11pm in Pullman Dubai Creek City Centre's Medley Restaurant on the first floor surrounded in traditional ambience and background music.
Celebrate with Medley, Pullman Deira City Centre the "Indian Independence Day" on August 15th and go on a culinary trip with authentic flavors and slow-cooking Punjabi cuisine.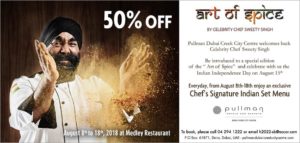 For reservations of the "Art of Spice" night, please call +971 4 294 1222  or email at H2022-sb@accor.com