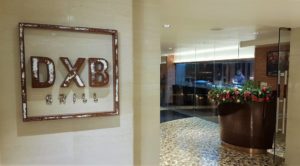 The UAE's love for grilled food is a well-known, evident from the rising numbers of rotisseries and grills springing up across town every other week. This is aside from the gazillion Shawarma shacks spread around town. With such healthy competition around, there has never been a dearth of choices in terms of grill houses in Dubai.
While Garhoud may not be a neighborhood generally known as a foodies stopover, there are a few promising restaurants that might well change the geography of the dining scene in Dubai. Millennium Hotel's DXB Grill is one such place. A relative new comer in the rotisserie scene in Dubai, DXB grill has a lot to offer in terms of variety, value, taste and overall offering.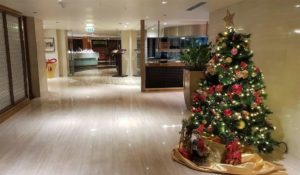 Me and my dining partner who are generally not fans of hotel's restaurants were invited by the luxe Millennium Airport hotel to review DXB Grill. The invitation came just around Christmas time so we took it. And thanks to that, we were treated to some of the best culinary treats of the season – including delicious Christmas turkey with all trimmings.
Upon Arriving…
Upon arrival we were offered shots of a heady mocktail which raised our spirits and added that perfect sparkle to the evening of indulgence. It was a punchy ginger-raspberry mix.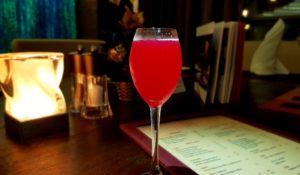 After we got seated, we were served with a basket of home-made bread and the restaurant's signature house dips. The breads were fresh and tasty, and the dips were flavourful.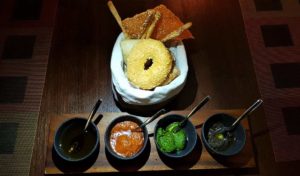 The Drinks
I went for the good old trusted friend Jack Daniel's  and kept at it, till the end of the dinner. The weather outside certainly called for several repeats. Talk about outside, DXB Grill has a small but gorgeous Al fresco dining area overlooking the hotel's pool. The tables are lit-up at night with candles and the milieu can be a perfect setting for a romantic dinner or drink with your significant other.
The Ambiance
We were struck by the elegant, yet casual setting of DXB grill which featured 2 spacious dining areas boasting of slick décor, plush seating and glitzy floors. The rotisserie and open kitchen were on either sides. The entire place was lit up beautifully for Christmas and exuded a very holiday (read celebratory) charm and vibe.
Add to that – a swanky curtain lit in green radiated a charm of its own. Over all very relaxing milieu and most definitely a perfect place for a romantic, intimate dinner date. The curtain separated the two dining areas – one a casual dining area and the other an open kitchen with a live-cooking station,seafood counter & sushi bar.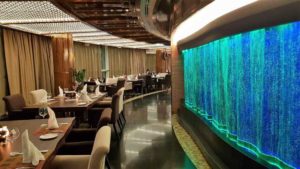 The Service
We were served by a very friendly waiter named Niroshan. He was a total pro. Very well-versed with the menu, he had good knowledge of every single dish served and helped us in making informed choices. He was prompt, very attentive to orders and kept the dinner moving at a measured pace, ensuring that we enjoyed the food in our own sweet pace without any sort of rush. The staff in general are an amazing bunch and make you feel completely at home. They never say NO for an answer and try their best to accommodate all requests, ensuring you get the best of the service at all times.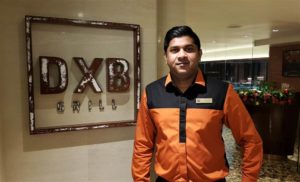 The Food
Salads
While we pondered the menu, and made our beverage selections, we ordered Compose Green Salad and Caesars Salad with grilled Gulf Prawns
Compose Green Salad – Refreshing and purely vegetarian – it had variety of delicate greens and thinly sliced vegetables, with slices of beetroot and the world-famous Granny Smith apple. The mix was tossed in citrus vinaigrette. The inclusion of granny smith apples certainly impressed us. One of the most instantly-recognised of all apples, Granny Smith apples have a distinct tart flavour and are loaded with nutrients. Coupled with the vinaigrette dressing –  the salad was bursting with contrasting flavours and made for a perfect and healthy starter.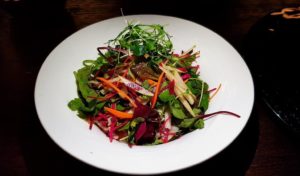 Caesars Salad with grilled Gulf Prawns
There was an element of surprise in this one. The grilled prawns came wrapped in a large and crispy crouton ball which had to be literally broken to reveal the juicy, creamy goodness inside. As I carefully cracked the batter ball, tender and luscious prawns soaked in Caesar dressing, peppered with romaine lettuce presented itself.  The creamy dressing and the crispy prawns both complimented each other well and made for an awesome entrée.  It was served with a large roll of fresh home-made cheese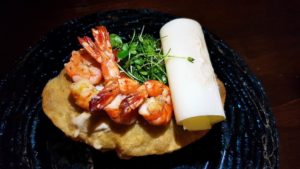 .
Entrée
For Entrée I chose Cheddar Cheese Chicken Soup while my dining companion went for Subji Pudina Shorba. We followed that up with selection of luscious Sushi.
Cheddar Cheese Chicken Soup
This is by far, one of the most delicious soups my palates have ever savoured! Full of cheddar cheese and luscious morsels of crispy chicken dumplings, this delectable soup was so creamy and rich that it almost filled me to the brim. The garlic confit accentuated the flavour and the pop corns added that extra element of fun. Over all it was simply out of the world. I highly recommend it soup connoisseurs.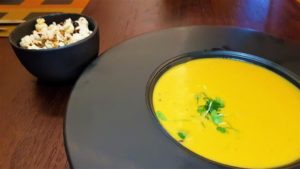 Subji Pudina Shorba   
A warm, delicious bowl of soup can do wonders in winter and that's exactly what the Subji Pudina Shorba managed to do. If you love fresh veggies in your broth than meat, then you'll certainly enjoy this clear soup. It come loaded with mint and fine strips of root vegetables quite literally like what the name said – Subji Pudina Shorba  – A Shorba (soup) of Subji (Vegetable) and Pudina (Mint)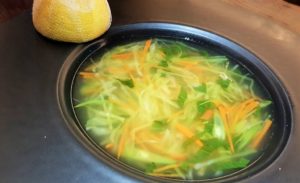 The Sushi
As I had mentioned about my love for Sushi while making the order, our thoughtful waiter Niroshan brought us a huge tray of some of the best Sushi's on their list.  It included Nigri combo, crispy California maki, dynamite maki, ebi ten maki, and spicy salmon maki.  The sushi was very nicely prepared and delectable.
The Mains
For the mains I chose from their rotisserie. Taking the Christmas season into consideration, I went for their Boneless Turkey Leg and Tandoori Lobster,
My dining companion – a sworn vegetarian and a huge connoisseur of Paneer went for the very desi Achari Paneer Tikka.
Boneless Turkey Leg – The well-cooked turkey legs – complete with skin was brought suspended on a metal skewer and it tasted as awesome as it looked. The meat was tender to the right level and the seasoning was pretty good as the flavours were coming together well.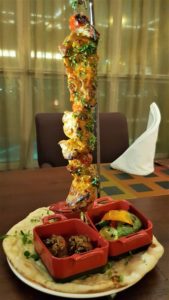 Tandoori Lobster 
As a seafood lover, I've always appreciated lobsters. DXB grill impressed me with their perfectly cooked red lobster dish. It's probably the best butter garlic lobster, I've ever had. The hint of lime added that perfect flavour to the dish making it taste delectable.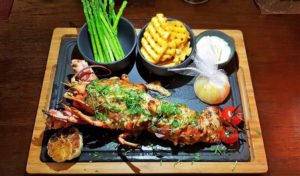 Achari Paneer Tikka
The Paneer cubes were large in size, luscious and flavourful. Marinated with mango pickle, yoghurt and aromatic Indian spices, it made for a perfect side along with the Indian breads.  The dish was served with spicy Indian chutney and lacha salad.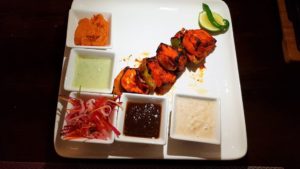 Desserts
Finally, in desserts, we had Oreo cheese cake and Raspberry vanilla parfait. Both were delectable.
Oreo cheese cake
Oreo cheese cake was fashioned over an Oreo biscuit base and topped with lemon-scented cream cheese and raspberry jelly. The crunchy biscuit at the bottom and the rich cheese on the top complimented each other well and made for a great dessert.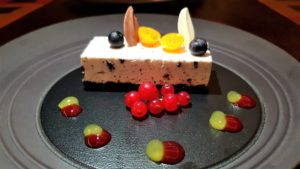 Raspberry Vanilla Parfait
A raspberry vanilla cream parfait set on almond jaconde with lots of Chantilli cream and raspberry coulis. The dessert perfectly reflected the colours of the season, reminding us once again that jingle bells and mistletoes are just around the corner.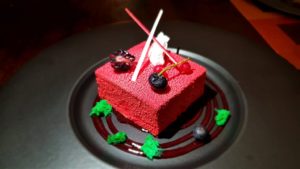 My Verdict
A promising newcomer turning up the heat on the competition, DXB Grill is a tasty addition to the city's food scene. DXB Grill managed to impress us with its delectable food, amazing selection of drinks and remarkable service.  We can't wait to go there again.
Gallery
If you're going
Need to know
Where: Millennium Airport Hotel, Casablanca Street, Al Garhoud, Dubai
Hours:  7 PM to 12 Midnight, all week.
Atmosphere:  Elegant, good lighting, plush seating, spacious dining area
Parking: Valet Parking Available
Prices: AED 310 for two people (approx.) with alcohol
Credit cards: Cash & All major credit cards accepted
Sound level: Quiet (very low music in the background)
Wheelchair access: Accessible 
Service: Excellent
Recommended: Cheddar Cheese Chicken soup, Canadian Lobster fry, Caesar salad
Reservations:  04 7028888 ; dining.mahd@millenniumhotels.com
Website: https://www.millenniumhotels.com/  
Facebook : https://www.facebook.com/MillAirportDXB/
Disclaimer / Voluntary Disclosure
This review was sponsored by DXB Grill. I was invited on the same terms as other food bloggers. All the views expressed in this review are my own. The restaurant had no influence on the content of this article, there is no form of cooperation between us, I was not obliged to publish anything, and I have not received any monetary payment in lieu of this review. All images used are courtesy of Blogliterati.com, unless stated otherwise. The images may not be reproduced without explicit permission/consent from the site owner.