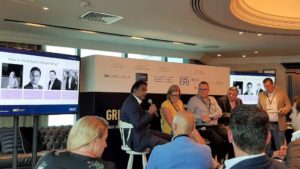 Running for five successful years, Global Restaurant Investment Forum (GRIF) is a three day annual restaurant investment event featuring an unmissable industry conference, mouth-watering culinary tours and some of the most valuable networking receptions offered at an industry event!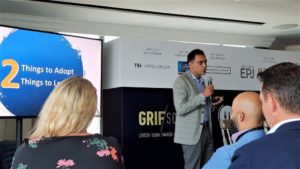 GRIF offers a valuable business opportunity to investors, owners, franchisers and other senior professionals from the global restaurant space to connect and discuss prospects of growth within the industry.
Here are some key insights presented on the 3rd September at the GRIF Dubai industry briefing.
A snapshot of global foodservice trends and industry performance
A snapshot of global foodservice trends and industry performance as tracked by the NPD Group across the world and lessons for the UAE.
Muhammad Ali Syed, Principal, Mingora Consult
Addressing a challenging market
What does the current F&B landscape look like in the UAE, what are the main difficulties and how can they be overcome?
Ronald Huiskamp Owner, H-Hospitality
Highlights of upcoming GRIF events:
1 OCT 2018 / CULINARY TOUR NAIROBI
Journey through the most delectable restaurants of Nairobi: Le Grenier à Pain KE, Nyama Mama KE, Java House Africa, Seven Seafood & Grill and Mercado – Mexican Kitchen and Bar… as you explore the city with hospitality decision makers. Learn, eat, drink and have a wonderful time!
SPEAKERS INCLUDE
Kiran Jethwa, Executive Head Chef & Co-Owner, Seven Seafood & Grill
Dil Patel, Director, JIT Group & Owner, Mercado
Jigar Patel, Director, JIT Group & Owner, Mercado
Lesiamon Sempele, Executive Chef, Nyama Mama Delta
Jayesh Shanghavi, Director, The Good Earth Group
Ninaa Shanghavi, Director, The Good Earth Group
Paul Smith, Chief Executive Officer, Java House Africa
Yan Welffens, Managing Director, Le Grenier a Pain Kenya
28-29 NOV 2018 / CONFERENCE RIYADH
GRIF's Riyadh conference takes place in the rapidly transforming epicenter of the Middle East. As the Kingdom of Saudi Arabia revamps its socio-economic policies, it is opening doors to untapped opportunities for the world of restaurants and hospitality.
The conference will be co-located with SAUDI HORECA 2018, The Saudi International Food, Beverage & Hospitality Exhibition – the Kingdom's largest annual hospitality expo.
SPEAKERS INCLUDE
Prince Alwaleed Bin Nassir, President, Saudi Arabia Restaurants Association and President, Restaurants Committee, Riyadh Chamber of Commerce & Industry
 Jochen Pinsker, SVP Foodservice Europe, NPD Group
 Samer Al Kawashki, CEO, Qoot
Simon Wright, C.O.O, Qoot & MD, TGP
David Singleton, Area Vice President, Franchise Operations & Development, EMEA/South Asia, Hard Rock Cafe International
 Dan Clayton, Director, PPS Addison Hospitality
 James Hacon, Managing Director, THINK Hospitality
Other Events
SAHIC – South America Hotel Investment Conference Medellin, 24-25 September 2018
AHIF – Africa Hotel Investment Forum Nairobi, 2-4 October 2018 
GRIF – Global Restaurant Investment Forum Riyadh, 27-28 November 2018
AviaDev Europe Valencia, 3-5 December 2018
SHIC – Saudi Hotel Investment Conference Riyadh, 23 January 2019
GRIF – Global Restaurant Investment Forum Amsterdam, 25-27 February 2019
AHIC – Arabian Hotel Investment Conference UAE, April 2019
AviaDev Africa Africa, June 2019
SPACE – Efficient Buildings Investment
 Disclaimer
All information contained in this article are courtesy of GRIF and the respective speakers at the recent Global Restaurant Investment Forum Dubai Briefing.