They say in Dubai you can't go wrong with Turkish food!
Its probably true because Turkish food has been around in the UAE for longer than anyone can remember. Right from the delicious Kepabs and Doners to the toothsome Bakalava and Kenefe – Turkish cuisine has remained an indispensable part of the UAE culinary gastroscape, so to say.
There are umpteen choices for experiencing authentic Turkish cuisine in Dubai and in my opinion Gunaydin is probably one of the best and most popular recommendation by anyone who knows Turkish food well.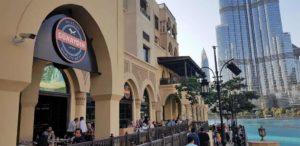 Established in 1965, Günaydın began as a small butcher shop in İstanbul and slowly grew to become one of Turkey's unequivocal leading meat brand ever since. Starting the Steakhouse restaurant concept to showcase its craftsmanship with the most delicious high-quality meats, Günaydın has become the most trustworthy address with over 40 successful restaurants and steakhouses in Turkey.
Günaydın expanded its regional reach with its first ever UAE outlet in Souk Al Bahar, Downtown. Within only two years of its existence, it started its second outlet in Dubai Mall and the third is under construction at Blue Water Islands.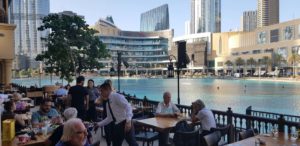 Günaydın provides a unique Steak and Kebab experience for its guests by combining its rich flavors with the authentic architecture. Guests are spoiled with the best of meat products such as meatballs, döner, lahmacun and kebab. The menu further brightens guests' dining experience with traditional dessert options like Kunefe, Katmer and Baklava.
Set in the beautiful Souk Al Bahar development, Gunaydin sits on the waterfront promenade, enchanting guests with a spectacular view of the world-famous Dubai Fountain and Burj Khalifa.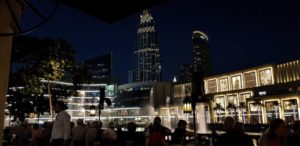 I chatted up with Ismail Tozlu, the General Manager of Gunaydin in Dubai. A fabulous GM he kept me engaged through the evening. Whether it was taking me for a sneak peak right into the "Heart of Gunaydin" as he calls the kitchen or serving me his chosen selection of the best salad in the house, throughout my time at Gunaydin, he ensured that I was constantly engaged, taken care of and happy. Just as you would expect a host to treat you when you visit their home, Ismail turned out to be one of the most hospitable hosts that I could ever wish for!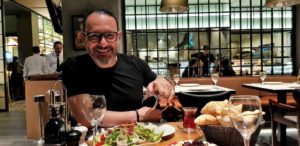 Restaurant manager Efe Yaman is an equally fabulous young chap. He takes great care of guests right from the time they step in to his restaurant to the time they leave. This is how Gunaydin strives to be different from other restaurants of its kind, he says in an interview with Blogliterati.com. At Gunaydin it is all about guest experience. Here's more from him.
What we had
To start off, we were served with Patlican Salatasi – a barbequed eggplant salad and Tulum Peynirli Salata – a mixed green salad with tulum cheese. The salads were very fresh, flavourful and delicious. Both made for a great start to the meal!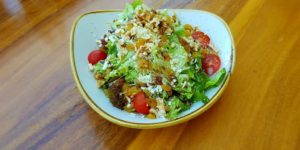 We were then served with hot and fresh Turkish Pitabread sided with Humus, Acili Ezme – a chili tomato dip with pepper and onions and Haydari – a dip of condensed yoghurt with garlic and dill.  The bread was one of the best Pita Breads I've tasted at any Turkish restaurant in Dubai. It was great when hot but did not lose its taste or become hard, even while it got cold.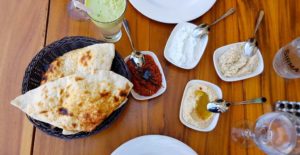 We were then served with two pieces of Lahmacun – the thin turkish style pizza with ground seasoned lamb.Every bite was a delight and the flavour of the lamb came through quite strongly in the bread which made it taste scrumptious.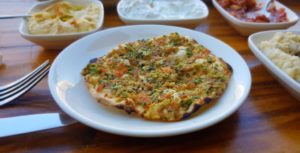 Main course
In the main course, we went for Grilled Stripsteak, Iskendar Kebap, Alinazik Kebab, Pan seared Seabass, Grilled Jumbo Prawns and Pan seared King Scallops.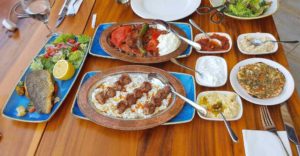 Grilled Stripsteak – Gunaydin is so famously known for its top-class meat products and with this dish, they proved that they are simply the best. The quality of the meat was premium and the taste was quite remarkable. It was better than anything I've ever tasted before.
5/5 for this dish.
Iskender Kebab – the dish that originally took the name from the famous cook iskender is today a world-famous Turkish specialty.  Gunaydin arguably makes one of the most delicious iskender kebabs in this part of the world. Prepared from some really fine cuts of grilled lamb, the dish came smothered with hot tomato sauce and pieces of pita bread, butter and yoghurt. This kind of taste and quality can't be found anywhere else in Dubai, but here!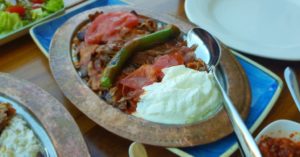 Alinazik Kebab – This is a traditional ground lamb meat kebab bedded on a thick layer of yoghurt infused with garlic and egg plant.  This was super tender, super delicious and really very well prepared. Even the yoghurt bed on which the kebabs came in, was quite tasty. Again, hands down one of the best kebabs i've tried in Dubai.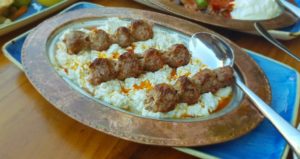 Pan seared Seabass: Gunaydin have always been reputed to make some of the best meat dishes but it pleasantly surprised to know that they are equally good at seafood too.  The pan seared sea bass tasted as awesome as it looks in this picture.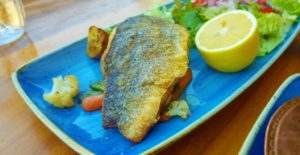 Grilled Jumbo Prawns and Pan seared King Scallops : The jumbo prawns were crunchy and smeared in flavorsome homemade butter sauce. Along with that the seared king scallops perfectly complimented with its soft and luscious texture and flavor – thanks to the sea salt, ground organic peppercorn and home-made butter sauce.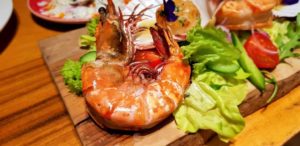 Verdict
Gunaydin gets a 5* rating from blogliterati.com hands down for its top-class food, fine guest service, gorgeous location, relaxing ambiance and overall quality of its offering.
The Gallery
Need to know
Cuisine: Turkish
Where: Ground Floor, Souk Al Bahar, Downtown Dubai, Dubai
Hours: Sun -Wed 12 noon – 12 midnight ; Thurs – Fri : 8:30am – 12midnight
Atmosphere: Gorgeous location, relaxed vibe, great turkish music and amazing interiors and outdoor terrace overlooking the Dubai fountain.
Parking:  Souk Parking
Prices: AED 380 for two people (approx.)
Credit cards: Cash, Cards accepted
Sound level: Music
Wheelchair access:  Accessible
Service: Excellent
Recommended:  Cold mezze,Lahmacun, Iskender Kebap, Grilled Stripsteak,  Alinazik Kebab, Pan seared Seabass, Grilled Jumbo Prawns and Pan seared King Scallops.
Additional Info:   No Alcohol Available. outdoor seating, Wifi
Reservations:  04 5540700
Disclaimer / Voluntary Disclosure
This review was courtesy of Gunaydin Restaurant, Souk Al Bahar, Dubai. Though the food was complimentary, all photos, views and opinions are our own, as always. The restaurant had no influence on the content of this article. There is no form of cooperation between us, and I am NOT obliged to publish anything. I have not received any monetary payment in lieu of this review. All images used are courtesy of Blogliterati.com, unless stated otherwise. The images may not be reproduced without explicit permission/consent from the site owner.