A modern Chinese and Asian Fusion gastropub and restaurant Han Shi Fu offers a truly authentic and unique urban dining experience by mapping a culinary journey straight into the hearts of cities such as Taipei, Hong Kong, Shanghai, New York, and Los Angeles; where execution of traditional dishes has transformed into an art, and the trendy infusion of flavors elevated into an experience. One can expect excellent food with bold Asian flavors served alongside artfully crafted beverages.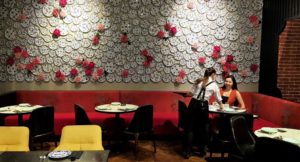 Ambiance
We went there on a relaxed Wednesday afternoon for lunch and the timing seemed just perfect. The tranquil confines with a mood lit milieu and subtle music playing in the background, served as a perfect mood enhancer and prepared us for an afternoon of sheer indulgence. The interiors are elegant and stately with a mild Chinese accent which is visible in the typography art and graffiti.  The music though is tastefully western. The bar area has been kept separate from the dining area and is nonsmoking – so a relief for families who dine in with the little ones.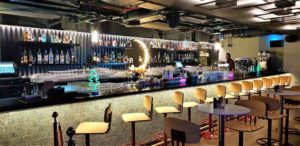 Service:
We were welcomed by the friendly restaurant manager Princess who beckoned us in while handing over our table's care to waitress Grace from the Philippines. She turned out to be the best waitress we could have ever wished for. Prompt, attentive, caring and proficient, Grace ensured that for the next few hours, we could just sit back and relax, leaving everything to her and her equally helpful colleague Khaled.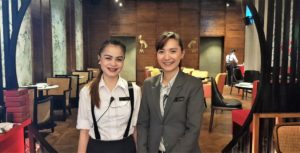 We let Grace use her good judgement in recommending some of Han Shi Fu's "must trys" for us. And she did a good job indeed, as we realized at the end of the dining indulgence.
For starters she recommended their signature Colour soup dumplings and Crystal goldfish seafood dumpling along with some peppy cocktails like For God's Sake and Why So Serious (for the lady). Even the very names are intriguing, aren't they?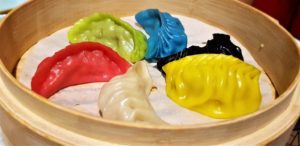 Dumplings
The color soup dumplings were different from anything we tried before – and this is with reference to the look & feel. It looked colorful, obviously with 6 different tones and was probably stickier – which really eased the grasp – as it was better held by the thin Han Shi Fu Branded metal edged chopsticks. However, taste wise, I cant say it was anything extraordinary. Just usual flavors but with a different style of presentation.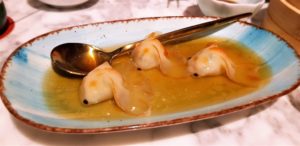 Crystal goldfish seafood dumplings was another unique dish that I haven't tried anywhere else before. It was okay.  The dumpling contained Hamour fish with scallion and peppers.
Appetizers
Magic Bricks – Han Shi Fu again presented a unique looking dish prepared with braised beef pieces set in flavorful stock gelatin. It was my first time trying this dish so I had no benchmarks for comparison.  All I can tell is – it tasted as nice as it looked.
Drunken Chicken Roulade – Steamed Shaoxing marinated chicken roulade with Chinese red dates. Dipping it in spicy side enhanced the taste of the otherwise plain roulade.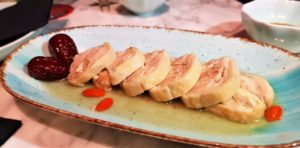 Cigar Spring Rolls – Chicken and vegetable filled crispy spring rolls with spicy chili sauce served on side. The presentation was great and the spring rolls tasted fabulous. A tad oily though.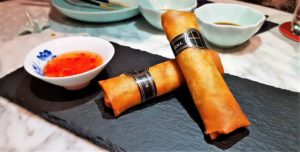 Bao
Panda Sesame Bao – I am a big fan of panda bao as – first things first – they look really cute on your plate as a dish and on the Instagram wall too. Secondly – they have a very important cultural and ecological significance.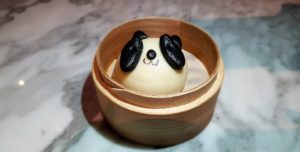 The Steamed Bao came with black sesame paste and tasted yummy.  The mushroom bao ordered by my dining companion was equally scrumptious. The steamed Bao had mushrooms, onion and garlic inside the steamed bao bun.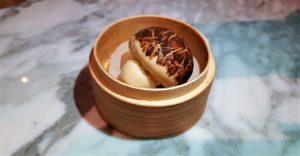 Mains
Sea food & Egg fried rice – Delicious bowl of signature house fried rice with seafood and egg. This was my favourite dish on the main menu. Every spoonful was sheer delight.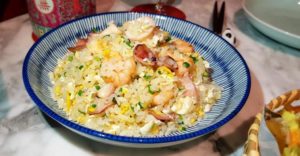 Crispy Skin Cod – Pan seared, crispy skinned Black cod with sautéed mushroom and black truffles topped with caviar and shrimp roe. Another amazing and exquisite dish that tasted as good as it looked.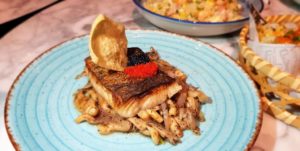 Grilled Lamb Chops – one of the most tender, juicy, luscious lamb chops I've had the pleasure to try – in recent times. I give this dish a 5/5 for the excellent job in marination and cooking by the chef. It tasted delectable and If there's one dish I would be going back to Han Shi Fu for – its this!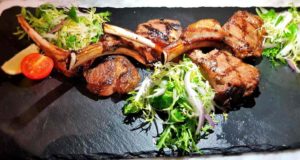 Dynamite Prawns – This dish didn't disappoint either. The Tempura style prawns came smothered in spicy Sriracha mayo sauce and feasted the taste buds.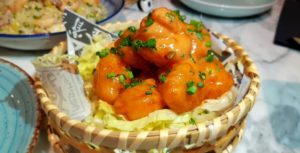 Desserts
In desserts we had Peanut Ice cream and Schezuan Chili Chocolate cake with milk tea ice cream.
Schezuan chili chocolate cake
A killer dessert of chili spiced chocolate cake, milk tea ice cream and pastry cream which came in a cute egg shell.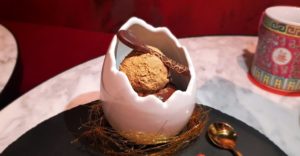 Peanut Ice cream – Seemed like a combination of sweetened condensed milk, and peanut butter. It tasted different from the usual ice cream.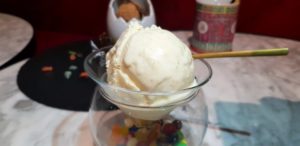 Verdict : 
Han Shi Fu is Dubai's newest Chinese restaurant situated in one of the hottest properties in the Deira side of town. Bored of the usual Chinese panda and dimsum kiosks at DCC food court?! Simply take a walk up the second level and walk right into the magnificent Han Shi Fu restaurant in the lobby level. This restaurant is highly recommended as a definite must try.