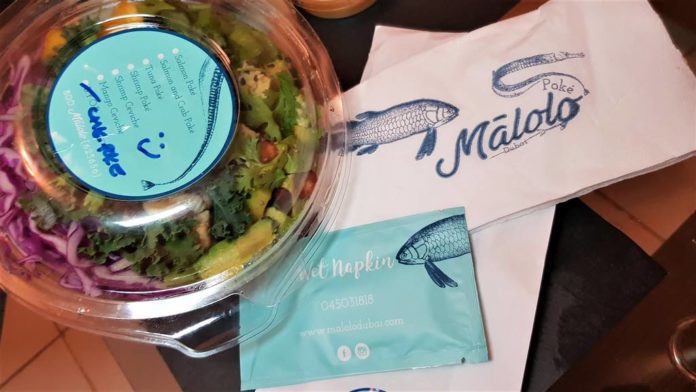 The UAE weather is so annoyingly arid off late, it takes bit of an effort to motivate oneself to go outdoors, even if it is – just to the neighborhood grocery store. Yesterday was one such day.
The hunger inside played pangs, nevertheless.  But the desire to stay indoors (and watch FIFA ) overpowered the desire to venture out in search of dinner. In a city like Dubai, where the delivery system is exceptional, the distance between ones favorite food and hunger, is all but a zomato order, away.
I was feeling rather Pokeish yesterday, so to say! Needless to mention, I couldn't have opted for anything else, than a bowl of poke, which meant less trouble washing any dishes, and more time lying on the couch and enjoying the game.
Poke

Hawaiian poke is a trendy fresh bowl traditionally topped with fresh fish and lots of fun toppings, like fresh veggies, avocado, seaweed and even chips. Poke bowls are popping up everywhere in the UAE and it's easy to see why; it's a healthy and quick meal filled with fresh ingredients and flavor packed sauces that instagrams really, really well!
I opened the Zomato app and looked out for some options. Malolo came up in the searches. On reading a couple of positive reviews, I picked up the phone and dialed straight to their outlet in Business Bay. The friendly gentleman on the other end was quick to take my orders and reassured that my dinner would be soon be on its way home. Considering the flow of traffic on this side of town, I was anticipating delays.
Not even an hour passed after I made my order and I had a knock on the door. Voila my poke bag had arrived. Very timely delivery, real neat packaging and the food and drinks arrived intact and fresh.
What I ordered?
I had ordered a chicken and a shrimp poke along with tofu and mango ceviche for my dining partner.
Chicken Poke : A fantastic bowl of roasted chicken, garnished with avocado, mango, green onions, red cabbage, sesame and coriander.  The base was sweet sticky rice. The chicken slices were small and neatly cut cubes – tender, succulent and totally delicious.   Roasted garlic and peanuts added that crunch and the sauces enhanced the overall flavor giving it a savory kick.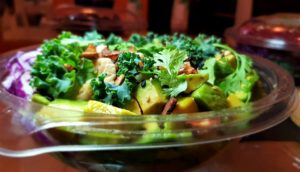 Shrimps Poke : It contained rice as the base with shrimps, avocado, green onion, cucumber, sesame and red chili flakes.  This bowl was as exciting to savor as the Chicken poke. The shrimps tasted fresh and crunchy. Shredded cucumber added that green texture and sesame and chili flakes ensured flavor and taste.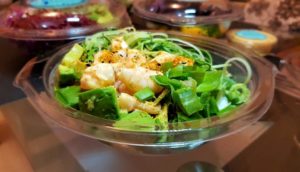 Tofu Poke : On my special request, Malalo was kind enough to customize a poke for my dining partner who is a pure vegetarian. The Tofu poke was also extremely delicious. The tofu was as soft as cheese and tasted very good. It also contained tofu cubes sitting on top of a bed of kale and quinoa topped with fresh veggies like carrot and red cabbage shredding, sesame, avocado, caramelized leeks, green onions etc.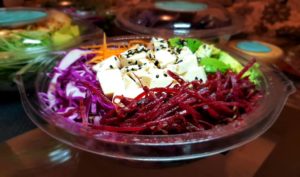 Sauces
Malolo also sent us 4 different types of sauces including Malolo special sauce, Teriyaki, Sriracha Mayo and Soy & Lime. The sauces were yummy and further enhanced the taste of the poke bowl.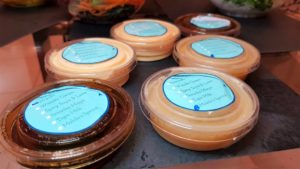 Mango Ceviche
A scrumptious bowl of mango, red onions, coriander, jalapenos & lime juice. The ripe mangoes and tangy lime juice threw in a contrast of flavors in the palettes and we completely enjoyed this bowl.
Along with the above, Malolo also included a portion of homemade non-greasy chips.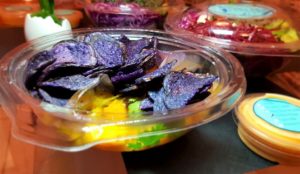 Finally a bottle of coconut water to gulp down all the goodness.
Bottomline
Malolo's poke bowl was completely satisfying and filling. The packaging was really very neat and showed how much emphasis the management lays on the quality. The bowls were fresh and contained garden fresh salads, vegetables and fruits. The quality of the meat and fish was also fresh.  One medium sized bowl can totally fill you and give you a guilt free dining experience. I highly recommend trying Malolo's Poke bowl.
Malolo Poke
Malolo's is a laid-back seafood restaurant dedicated the much-celebrated Hawaiian raw fish dish. The brand is founded in a serious love of Poké – and genuine desire to share it with others. Already quite popular in Lebanon, they opened their doors in Dubai in mid September 2017. Malolo's is committed to serving superior ingredients and responsibly sourced seafood. They maintain exceptional quality in their poke bowls and also lay emphasis on presentation, efficient delivery and above all good hospitality.