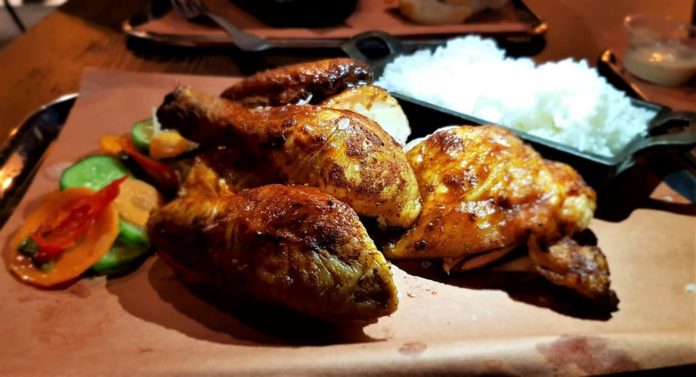 Mighty Quinn's – A Review
When one of New York's best barbeque chain made its way to Dubai earlier this year, BBQ lovers a.k.a meat connoisseurs here rejoiced. Well-known for its old school barbeque cooking techniques using smoke and time, Mighty Quinn's is a popular fast casual concept serving delicious and wholesome smoked meat. They have two outlets in Dubai – Downtown and Jumeirah Beach Residence. Blogliterati.com was invited to review the newest outlet in the Dubai Mall.
The Brand
The brand prides itself in using only the finest ingredients and cooking with wood and time- the old school way – which grounds one to the basic elements of making great food.  What separates Mighty Quinn's from all the regular barbecue joints is their focus on every part of the menu, from the side dishes down to the drinks. Of course, their meats are still the main attraction.
The Menu
The menu is pretty straightforward and I like that there are only a few items to choose from.  Just glimpsing through once, I was able to quickly make the choices.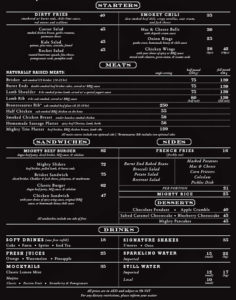 What we had
We started off with a glass of watermelon juice and classic lemon mint mojito. Both were very fresh and refreshing.
We then indulged in salads, as always so we'd feel less guilty later! We had Rocket and Kale Salad. Both were garden fresh and offered that perfect green balance before a totally meaty diet.
Kale Salad
A crunchy melange that served as a perfect side dish with smoked chicken grill.  It was a delicious and healthy mix of Quinoa, pine nuts, avocado and fennel.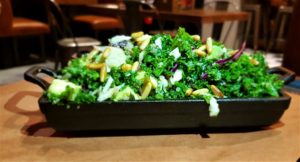 Rocket Salad
It contained roasted butternut squash, fresh feta cheese, pomegranate and pumpkin seeds.  The pomegranate seeds added that bit of sweetness to compliment the sourness of feta cheese and made for a great salad.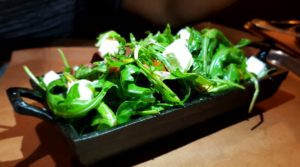 In starters we went for Chicken wings and Mac and Cheese balls
Chicken wings
Unlike the usual buffalo wings, this one was unique in that it had a juicy, moist, slightly tangy and overall Smokey flavor.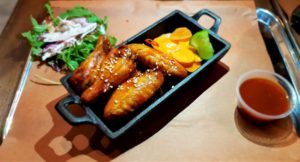 Mac and Cheese Balls
The Mac and Cheese balls were as good as expected. Crispy on the outside and cheesy on the inside.
In the main course, my dining companion went for a vegetable burger that was specially customized for her, though it was not on the menu.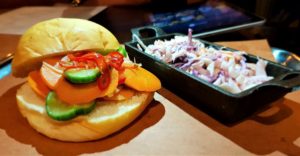 I decided to try both their lamb and chicken so went for Lamb Shoulder and Half Chicken. Though I was definitely intrigued by Brontosorous rib on the menu, I wasn't adventurous enough to try it, that night!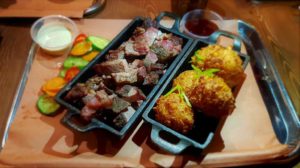 Lamb Shoulder : 8 Hour smoked prime lamb which was served with special yoghurt sauce. The lamb shoulders were tender. The tangy yoghurt dip went absolutely well with the lamb shoulders and the quantity was quite filling and it could be possibly shared by two.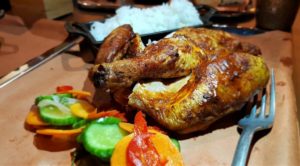 Half Chicken : An Oak smoked barbeque chicken on bone, it was the highlight of my dinner. The meat from the chicken could be effortlessly separated as it was completely tender and luscious. The smokey flavor was overpowering, in a nice way of course and different from the usually Half chicken I tried at other BBQ's.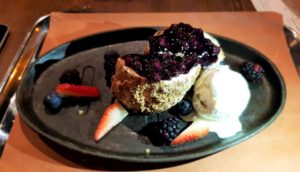 Desserts
In desserts we had blue berry cheese cake. It was absolutely delicious but a tad too sweet for my liking.
The Ambiance 
With tiled walls, industrial chairs and tables, fancy letterings on the wall, Might Quinn's doesn't look like your typical barbecue joint. The interiors are warm, cozy and intimate thanks to the wooden decor and mood lighting by the filament bulbs.
Bottom Line
Overall, we loved Mighty Quinn's! It's certainly a Barbecue haven for hardcore carnivore foodies. They take their sides seriously, which isn't common for a barbecue joint. Rice lovers would be happy to note that they serve generous portions of rice unlike any fast casual restaurant we know in Dubai. The meat is cooked the traditional way, with wood and over long periods of time.  The restaurant is run cafeteria-style, offering slow-cooked food but with quick service. If you want to stay away from the food court din and nibble at a peaceful joint then Mighty Quinn's is an excellent choice.
Footnote:
The outlet Manager Jilian Fernandez is an extremely warm, friendly and welcoming lady. With her at the helm, fast and efficient service is assured.