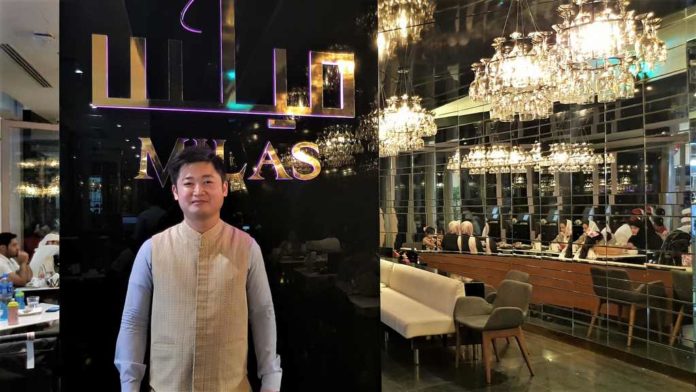 Last Friday after a shopping spree at the Dubai mall, we decided to check some dining options at The Village in the LG level. One restaurant jampacked with the abaya and kandoora clad clan caught our attention. Milas.
Milas is the Emirati phonetic prononciation of the classic "majlis", the most welcoming space of any Emirati home. The "Milas" is the room in which guests are received and treated with the generosity and caring characteristic of Arabia.
We had read about Milas on Zomato, but hadn't tried their fare before, so we decided to hop in and check out what was on offer. We had the appetite to eat a full goat and from a glimpse of the menu, we were pretty sure Milas had what it takes to satiate!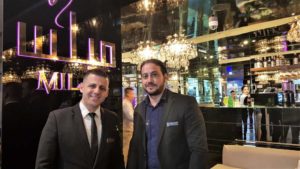 We tried to find a seat but to no avail. The friendly restaurant manager Osama offered to find us a seat if we were patient to wait for few minutes.  Pretty good gesture we thought, considering that we had walked in without a reservation.We stepped in to the timberland outlet, to give them some time. After ten minutes we got back and our tables were ready. Seeing the teeming crowd of locals, we had decided that even if it were to take one hour, we would wait and try out their cuisine, about which we had read umpteen.
The place somehow looked very cramped, thanks to the mirror clad walls. With all tables full both inside the restaurant and in the al fresco area, It was a busy scene. Nevertheless, the servers were an awesome bunch who did a fabulous job. Particularly we must mention our server de table John, a young Filipino guy who ensured very prompt and friendly service through out our time there.
Drinks
We picked up two juices to hydrate. We had Minted Lemonade and iced mocha.
The minted lemonade refreshed me instantly. I had requested for a salty version but the drink they brought had a sweet tangy twist to it, which was good.
The iced mocha was Starbucks quality. Pretty good for a restaurant specializing in Emirati cuisine, I must admit.
The Starts
In starters we went for Chick Peas, Dil Kashmiri, Flaming Calamari and Kebab Bites.
Chickpeas : quite disappointed with this dish as it lacked any flavor or taste, whatsoever, so was a put off.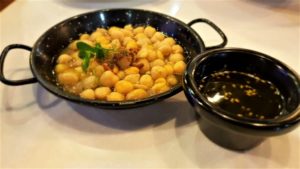 Dil Kashmiri : From the very name, the dish was very Indian. A stylized version of the Indian Raj kachori with a crusty outer and filled with sweetened yoghurt, potato, chickpeas, fried bread, pomegranate seeds and the works. Full points for this dish. It was scrumptious.
Flaming Calamari : The flaming calamari was a clear winner for me. Succulent calamari dressed in creamy, sweet flaming sauce that was tantalizing, to say the least.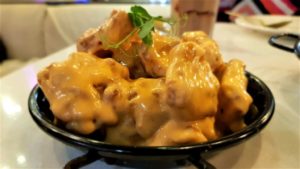 Kebab bites : it had milas kabab rolled in freshly homemade bread served with hummous, onion, parsley and tartar dip on the side. It was very filling.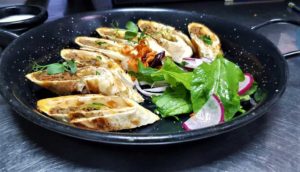 Cold Mezze
In cold mezze we went for the popular Milas Nakhi and Tabbbouleh.
Milas Nakhi : We expected more from our hummous but were disappointed. It was Just OKAY but not as much as we would have expected from a restaurant specializing in Emirati cuisine.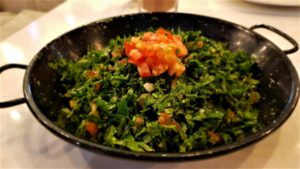 Tabbouleh : The tabbouleh was pretty sour to our liking, but I was told this is how their customers – the Emiratis prefer their Tabbouleh. The lime flavor was intense and drowned the taste of the fresh tabbouleh in its tanginess.
Salads
In salads we went for Rocca Cheese Salad. The cheese was not great to taste, however the Rocca leaves and fresh cherry tomatoes made it a healthy pre-food option.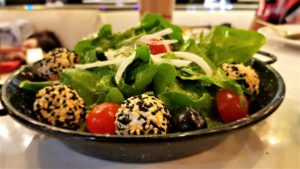 Main course
In the main course, I went for Rosemary lamb chops and Milas Kebab.
Milas Kebab – It contained their special Milas Lamb mixture and was served with flavored rice on the side. It was a great combination.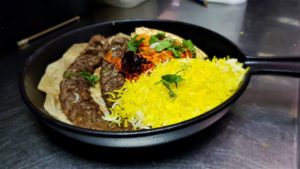 The lamb was tender, succulent and well marinated with their creamy sauces and overall a juicy bite to savor.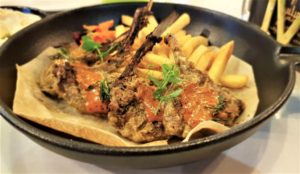 To finish off, we had a glass of "Shake your mango" milk shake. The flavor of mango was subtle to a pretty nice level and was a delight in every single sip.
The gallery
Bottom line
Overall, Milas is a nice place to try out Emirati cuisine. If you are willing to keep aside your preconceived notions of Arabic cuisine and try out local food as authentic as the locals would prefer, then Milas is a great option. I really commend the servers for the prompt and attentive service despite the weekend rush of guests. The restaurant managers Osama and Safwan were a friendly and welcoming bunch and the Head Chef Malik was kind enough to let us enter the kitchen for a photoshoot. Overall the service impressed. The starters and mezze could be better, however in the meat, flavored rice and grilled food department they seem to fare pretty well. What they are extremely good at are the juices, milkshakes and iced coffees.