NURAI is a Mediterranean restaurant with its name derived from the Turkish language that means "the white moon". Situated at the ground level of the Wharf Tower in Business Bay and facing the Burj Khalifa, the trendy and stylish Nurai resto café is set along the gorgeous Dubai Water Canal. With its stunning view and relaxed milieu, the lush space represents the essence of seamless connection with its Mediterranean theme.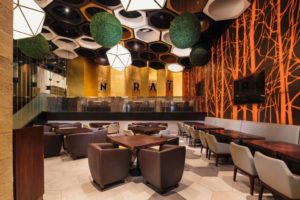 The path breaking design is inspired by the magnificent setting of the full white moon in a dark forest. A solitary ceiling design and full height wooden illuminated wall cladding creates a focal point within the restaurant, while the blend of light and fine details of the space generates an extraordinary experience. These design elements are designed not only for its function, but also for its distinct sophistication.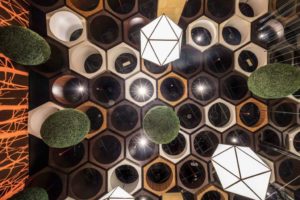 Menu
Nurai offers a fine array of traditional and modern Lebanese and Mediterranean dishes, shakes and shishas. Separated over two levels and a spacious outdoor area – which gets really active during the cooler climes, Nurai offers a great ambiance to eat, smoke shishas and socialize.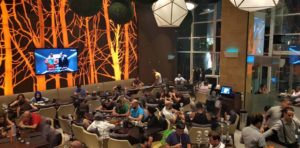 We skimmed through the elaborate menu to look for our desired mid-eastern choices and went with our regular favorites including but not limited to a range of cold and hot mezze, grilled meat, breads and salads.
Hot & Cold Mezze
In cold mezze we ordered Tabbouleh & Hummus. Both were extremely good and different from the usual mezze we'd tried anywhere else.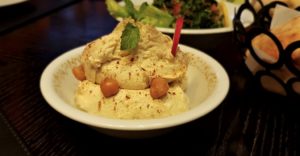 The consistency of the hummus was thick to the right level and had a distinct taste of its own, while the Tabbouleh tasted super fresh and was at its tangy best.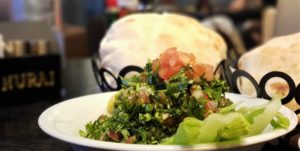 Both the mezze went extremely well with the fresh and hot Lebanese breads. In the hot plate we went for Spicy Potato with Corriander. Best form of spicy potatoes with a lightly crusty outside and soft inside.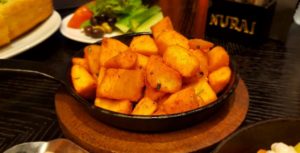 Appetizers
In appetizers we had Cheese garlic bread and Shrimps provincial.  Cheese garlic bread was our favourite in appetizers as it beat the quality of pizza hut's garlic bread by all means. Shrimps Provencial was oversoaked in the lime perhaps which gave it a very strong tangy punch. It was crunchy nevertheless.
I shared this feedback with the waitress who gladly noted and promised to let the chef know. What I assume to be the reason for this lime overdose is – the demand from local customers. The café is a favorite among many Emiratis and Arabs who I know love a lot of lime in everything they eat. In short, it might not have appealed to me as much as it should have but I am pretty sure their other regular customers love it.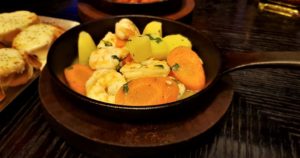 Main course
In the main course I went for the classic mix grill, while my dining partner chose Pesto Pasta and Chicken Avacado sandwich sans the chicken.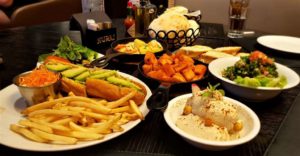 Mix Grill
The mix grill came with 1 skewer each of beef & chicken brochettes with 2 skewers of kafta served with french fries and grilled vegetables, pita bread & hummus dip. Quantity wise the mix grill was not satisfactory at AED 75 dirhams but taste wise it was good.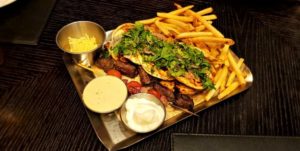 The Pesto pasta was quite good and I could savor it, thanks to my generous dining companion. I didn't get to taste the avocado sandwich but according to my dining partner, it was pretty good and up to her expectations.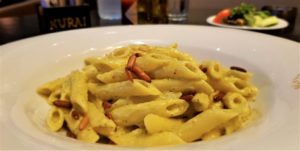 The drinks
In the drinks we had Iced peach tea, mango smoothie and Nurai special shake. All the drinks were extremely good, especially the peach tea and nurai shake which was a mix of oreo and chocolate.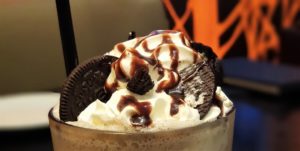 What we loved about the drinks is that it tasted natural and fresh and did not overdo the sugar like most other cafes do – which made it absolutely delightful to gulp down – between every bite of the food.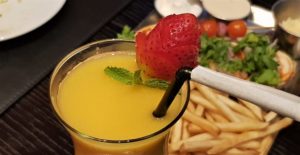 Desserts
How could we leave Nurai café without trying out their special dessert – the Fettuccini crepe?! Oh boy, we did and totally enjoyed it. All the sweetness that we saved on with the drinks, we swallowed down with this dessert delight. It was too sweet, thanks to the over dose of Nutella, but for a Nutella lover, this dessert is bliss.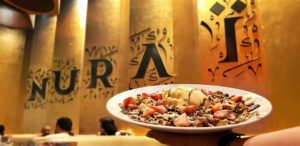 Shisha – On the recommendation of Charbel – their operations manager and our host, we tried the blueberry shisha. My dining partner who actually is not a fan of strong shishas absolutely loved this mild and groovy blueberry hubble bubble! And for my bit, though I am the usual "double apple" guy, this was a delightful change. I highly recommend their shishas as much as I recommend their overall culinary offerings.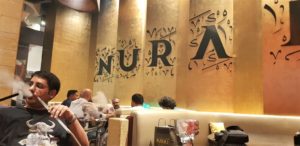 Service
Our table was served by Mary, a filipina waitress who was always around with a watchful eye to look out for orders or see if anything needed replenishing. We were really impressed by the service of the waiters who were always prompt and present and the awe-inspiring hospitality of our host Charbel Maroun
Bottomline
Overall a very delightful experience and a Thursday night well spent. I highly recommend this café for its fine food, impressive service and great ambiance and needless to say great views of burj khalifa and the Dubai canal.  A must visit if you are looking for a café that serves everything, along with great shishas.
The Gallery
Disclaimer / Voluntary Disclosure
This review was courtesy of Nurai Cafe, Dubai. Though the food was complimentary, all photos, views and opinions are our own, as always. The restaurant had no influence on the content of this article. There is no form of cooperation between us, and I am NOT obliged to publish anything. I have not received any monetary payment in lieu of this review. All images used are courtesy of Blogliterati.com, unless stated otherwise. The images may not be reproduced without explicit permission/consent from the site owner.