I recently attended a food bloggers tasting event organized by Sthan Restaurant and facilitated by Xite Social Media Agency.  It was one of the best bloggers meet I attended in recent times and it was a pleasure sharing a table with some well-known vloggers and food experts from Dubai.
About Sthan
An ode to the culturally rich cuisine of India, Pakistan and Afghanistan, Sthan offers a delectable palette of food with the flavors, traditional heritage and exuberant spreads from these three countries.
The word Sthan, which means place, is the common element between HinduSthan, PakiSthan and AfghaniSthan. The flagship restaurant is known for its rustic open interiors, serving plates of delicious street food. Crafted with passion, the detailed Menu which refers to specific dishes from Kabul, Peshawar, Karachi, Bombay, Delhi etc. are suited for café style eating – easy, flexible, welcoming. One would find in the menu, an appetizing mix of dishes that is sure to remind them of food served in the dining areas at home.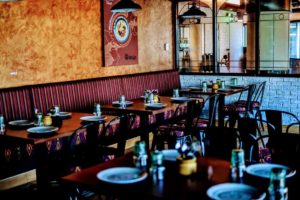 Ambiance
To compliment the menu, the ambience offers a sense of belonging and warmth just as one would experience in the nostalgic lanes of their city. The artwork and map on the walls, looks at the great cities and evokes a sense of nostalgia for the erstwhile Frontier Province. It also showcases how the food styles evolved as you move from Kabul to Karachi to Delhi. The interiors, with its ample natural lighting and full-length windows, blue & white floor tiles, the distinct fabric on the sofa and the open kitchen remind one of the open tandoors of the olden days. The crockery is simple and meant for sharing.
Tasting menu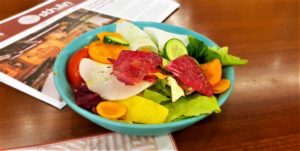 We started off with a bowl of garden fresh salad and a plate of crisps (namakpare) to compliment, sided by a delicious home-made dip.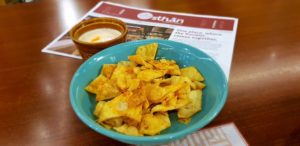 In soups we had Kabuli Murgh Shorba which is an Afghani chicken stew with a bit of saffron and fennel. It was yummy.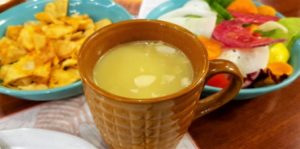 In small plates we were offered Dah Ke Kebab. It was a nice pan-fried tikki of Paneer and creamed yogurt. This was complimented aptly by Bhalla Papdi chaat which had crispy papdi and lentil dumplings topped with a tangy mint tamarind chutney and pomegranate seeds. The seeds added a hint of sweetness to the tangy chutney and offered a palate rewarding dose of taste.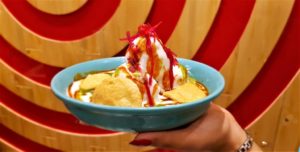 This was followed by luscious Lahori Gosht Sheek – a Pakistani style melt-in-the-mouth minced kebab marinated with lime, coriander and cumin.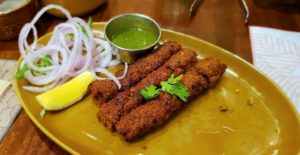 We also tried their specialty Bhatti Da Murgh – a country-side style tandoori chicken garnished with yellow chili, coarse garam masala and topped in teekha masala for that delightful hint of flavour and spiciness.  It was excellent and we really enjoyed this combination of lamb and chicken in the grills.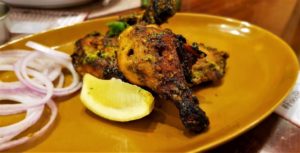 Bottles of the famed Banta Soda was brought in to add some excitement and wash down the hotness, if it was there at all!
Main course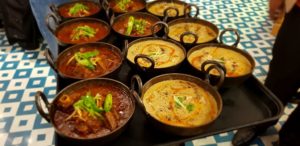 In the main course non-vegetarians  were served Rogan Josh and Murgh Kalimirch curry. Vegetarians were offered Dal Makhani and Malai Kofta.
The curries were sided with uber-flaky and aromatic Lucknowi Paratha infused with cardamom. In breads we were also served Kalonji Dal Naan – a black seed flavoured chana and masoor lentil bread – a great combination. The breads were remarkable.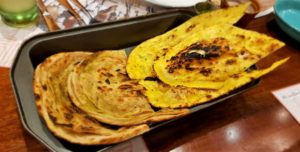 Rogan Josh – the Rogan Josh was a slow-cooked jammu style mutton curry floating on an aromatic sauce of yoghurt. The good quality of meat and the slow-cooking resulted in the mutton being extremely tender and juicy. The meat came with bones, which kind of added on to the taste. The curry was full of authentic Indian flavour and went extremely well with the breads.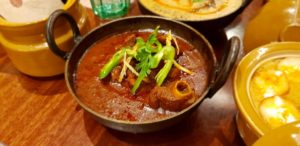 Murgh Kalimirch – The murgh kalimirch curry had succulent chicken on a creamy yogurt onion curry spiced with cracked pepper. Thanks to the use of pepper and yogurt – the curry was not too spicy but nevertheless hit the right spot in terms of flavor and taste.  This curry is perfect for any videsi food lover who wants to try Indian food without necessarily being forced to dreg down piquant spices.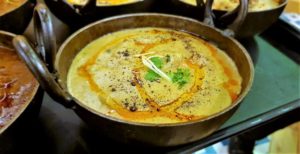 I didn't try the vegetarian gravies but according to Sanjim a food and lifestyle blogger – "the curries were tasty and less oily, non-spicy, condiments to the point and tasted super fresh".
Murgh Biryani
We were already quite full with all this indulgence but nevertheless when a handi of flavour-packed Murgh biryani was brought in, we couldn't but give in!  Aged basmati rice is already quite flavourful in itself, add to that some flavorful biryani masala and saffron jhol and the result was a biryani that captivated the senses. The chicken was tender and juicy and very well marinated in spices. The biryani overall was very light and didn't feel heavy on the stomach at all.  So, highly recommended.
Dessert
In desserts we were served with Jelebi Ki Chaat – a delicious and unique sweet chaat preparation of the famous Indian jalebi with rabdi. It also had crispy bits of shakkarpara to compliment.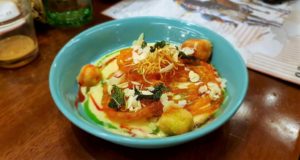 Service
The service was pleasant and prompt. The staff were quite knowledgeable about the food they served and were even kind enough to answer all our queries about the dishes.
Bottomline – Sthan is a fantastic restaurant offering a wonderful selection of authentic and delicious regional dishes from Pakistan, Afghanistan and Hindustan, topped with fantastic service and great milieu. Just off the main road opposite to the civil defence station and near Karama Head Post office – this heart-of-city restaurant will find a special "sthan" in your heart!
The prices are very reasonable for the kind of food they serve and the quantity of some curries are decent enough for two to share.
This restaurant is highly recommended!