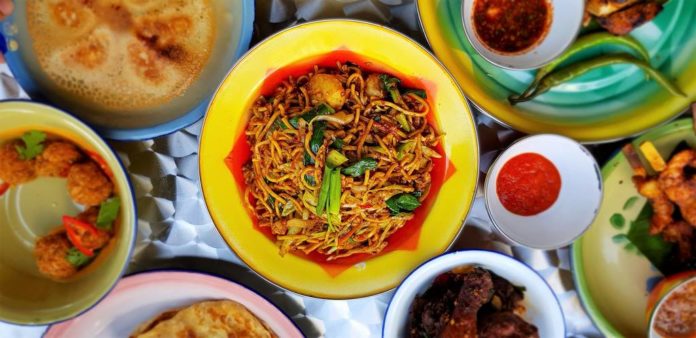 Experience the culinary extravagance of the Asian street-fare in a fuss-free, simple and laid back setting at Streetery Food Hall by Zen, JLT.
Owner Nicky Ramchandani who has been successfully running a popular Thai restaurant ZEN in Business Bay for the past 14 years knows the business well and strongly believes that his food speaks for itself, and in large part, I must agree – it surely does.
That's why he choose to set up a Food hall serving tongue tantalizing authentic Asian street fare out of food cart themed stations, without much bling. As a matter of fact – just about everything at the Streetery – other than the food – is bare-bones, basic and utilitarian.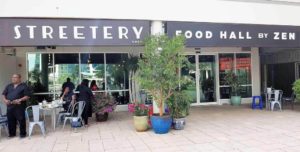 Speaking to Nicky, I realize he is deeply passionate about his business and wants to ensure that each and every customer gets full value for every cent spent. If he managed to whether the challenging market climates over the past decade and survived here for 14 years – that says something! Definitely he must have done the right things!
Having spent a decade in Thailand before moving to Dubai to set up this business, he seems to know the pulse of the Asian food scene and the finer rudiments of serving street fare in restaurant-saturated city – and making it a viable and profitable business.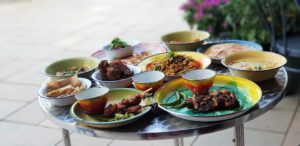 Travel inspired by Food
Inspired by my many travels across the length and breadth of India and more recently to Taiwan – I have developed a huge liking for the unapologetic flavors of Asian food, and when I say Asian food they usually mean – the spice packed curries, piquant sauces, fragrant udon, succulent dim sums, tantalizing satays and yakitori – the works!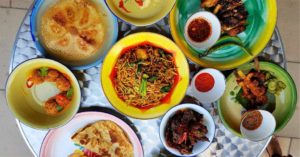 Being raised in India, I strongly know that the best dishes are always found on the streets – more specifically – in the street-side hawker stalls. In those good ole days, we hung out after university at one of the many dhabas dotting the city. We usually chose street fare as opposed to brick and mortar stores, as the food in the streets was way tastier and cheaper than restaurants.
Unfortunately here in Dubai street-fare or food trucks concept has a totally different connotation.  Dubai restaurateurs have over-done the street-fare concept to the point of commercialism that it is no where close to authentic, leave alone pocket-friendly. Last Exits and the various food trucks in La Mer and Kite Beach are an example of expensive street food.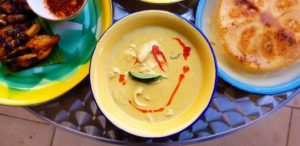 I have sought out 'authentic' Asian restaurants in the course of the last decade, in hopes of finding a gem, only to be disappointed 9 times out of 10. Either they were too over priced or they were far from authentic. So, I usually relied on my annual trips to India and other parts of Asia to get a fix for my street-food cravings. Looks like I have finally found the gem i was searching for, in Dubai – the Streetery!
What's it about Asian Street Food
From duck roast on the streets of Peking to Tom Yum out of the floating markets of Thailand, each region specializes in specific flavors and each dish has a unique charm and taste of its own. Even in contemporary Asia, many decades-old hawker stalls are still renowned for the "best" of whatever dish they have mastered. The most successful recipes, typically have been passed from one generation to the next, bringing in flocks of eager patrons as regular diners in these hot spots.  If you've ever traveled to Asia, you will know that the best foods are almost always served by the local hawker.
Asian Inspiration at Streetery
Inspired by these hawkers of Asia, the chefs at the Streetery have selected the best of street food from China, Thailand and Malaysia and brought them together under a roof. The pocket friendly menu pricing at the Streetery brings in hundreds of diners everyday. As per prop. Nicky, usually the restaurants at Food hall together serve 350 covers a day. Quite a decent figure, I must say!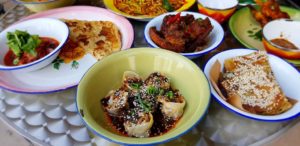 A meal at the Streetery with friends, colleagues or family is definitely worth the time and money spent. First off what I have to remark about is the popularity of the food hall. We went there on a Tuesday afternoon, barely close to lunch hour- and the place was already teeming with diners.
There were people from all walks of life. From the random Chinese tourist to the regular corporate suit from a nearby office – the tables were full of people – who seemed like they were in no hurry to go anywhere. Many seemed to be enjoying a good lot of conversation amidst their culinary indulgence. I think that's the very essence of the Food hall concept – community dining in a casual setting with good food at great prices.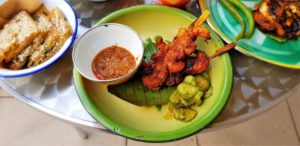 The Streetery has managed to carve a niche for itself and is extremely popular among people in the JLT neighborhood mainly for two reasons – One – it offers a culinary smorgasbord of options for diners – all under one roof. Two – the food prices are very competitive and unlike any other eatery anywhere in JLT. These two factors seem to have contributed to the fast growth of this brand at a time when new venture restaurants around town and even in the vicinity – are finding it hard to break even.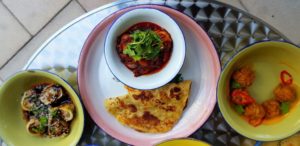 The food
We started off with Fat Aunt's Sambal Prawn with flaky Malai Roti which looked and felt more like the Indian paratha but more softer and flakier at that. The rich and flavoursome Sambal Prawn Curry was a great side for the flaky rotis. Totally palette rewarding, I should say!
Then we had Hing Kee's Thai BBQ chicken and Prawn Sattay.  The BBQ Chicken was perfectly marinated with the signature rubs and so was the prawn sattay. Both very delicious appetizers and came accompanied with zesty sauces.
Then we had in the line up Fat Aunt's Scallion Pancake, Crispy Prawn balls, Szechwan Fried Chicken and Chicken Potstickers.  Though all the above dishes were distinct in taste and flavor – my personal fave was the Szechwan fried chicken. Reason being – it was spot on in flavor, spicy zest and taste – that just exploded in the mouth with every bite. It was very close to the kind of chicken fry we make back home in Kerala.  The Scallion pancake on side was a good addition to the mix. Prawn balls were crispy on the outer and soft on the inside – just as we would have wanted them to be!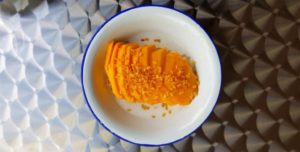 If these were not enough, the spicy food was complimented by some green curry chicken with rice and Malay Mee Goreng. We also tried some flavorsome noodles and Szechwan chicken wantons.
Desserts
When we were stuffed enough with only a little space left for desserts, we ordered Ondeh Ondeh, Sticky rice mango and Tap Tim Crob.  The desserts were as delicious as the food there and gave a perfect culmination to the savory feast. My personal fave in the desserts was the Tap Tim Crob – a melange of jack fruit, chestnut coated in tapioca starch and palm seeds floating in a bowl of ice cubes and yummy coconut milk.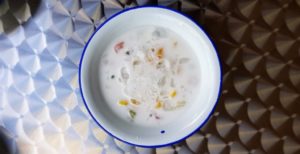 I usually prefer the sticky mango rice – when dining at Thai restaurants. Somehow, at the Streetery it didn't hit the right spot, for me, in terms of taste. I think largely its because Mango is a seasonal summer fruit and ones found in winter don't carry the same taste and sweetness. Ondeh Ondeh was more like the moshi – and I am no big fan of moshi so Tap Tim Crob was a perfect bet for me! After a fiery lunch, I couldn't have asked for anything else!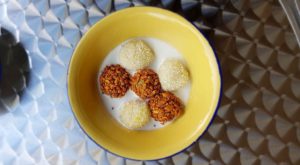 Verdict
Streetery is a fabulous new joint to try out some flavorsome Asian food in a laid back setting with gorgeous views of the JLT skyline above and lake below.  The prices wont put a hole in your wallet and the food will leave you wanting more. Like it did to me!
Go try it, you'll love it!
Disclaimer / Voluntary Disclosure
This review was courtesy of Food Hall By Zen, Dubai. Though the food was complimentary, all photos, views and opinions are our own, as always. The restaurant had no influence on the content of this article. There is no form of cooperation between us, and I am NOT obliged to publish anything. I have not received any monetary payment in lieu of this review. All images used are courtesy of Blogliterati.com, unless stated otherwise. The images may not be reproduced without explicit permission/consent from the site owner.