It's the official winter black truffle season in Italy, and as one of Dubai's most authentic – and adored – Italian eateries, Trattoria Toscana is offering diners a rare chance to enjoy dishes adorned with 'tartufo nero' (rare black truffle) – but only until December 1.
Blogliterati.com had an opportunity to try out an exquisite menu this week in the gorgeous restaurant as Head Chef Antonio Iacovelli curated an exclusive seasonal menu especially for the season.
Comprising six carefully-crafted dishes, pizzas, pastas, ice cream and more are served with a four-gram shaving of pungent, flavourful Italian black truffle – one of the world's most expensive foods, due to its rarity.
The truffle-adorned gourmet dishes include a sea bass carpaccio served in an almond sauce with stracciatella cheese; a potato cream, veal bacon and egg yolk pizza; handmade tagliolini pasta served in a wild mushroom ragout; burrata stuffed ravioli with beurre noisette and parmesan cream, and Black Angus striploin steak with cauliflower and toasted hazelnut. And you can even try a truffle-infused dessert – the vanilla ice cream with creamy caramel chocolate is a must try.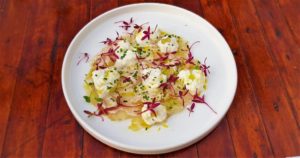 Blogliterati.com team tried the Sea Bass carpaccio and vanilla ice cream along with a few lip-smacking dishes from their A la carte menu. Both these dishes from the Truffle menu were totally standout and special. Furiously light and excessively delicious the Sea Bass Carpaccio was accented elegantly and plated beautifully by the skilled chefs at Trattoria Toscana. Galato Ala Vaniglia, Cioccolato Al Carmelo – the ice cream was scrumptious. We were really impressed by the presentation of food at TT.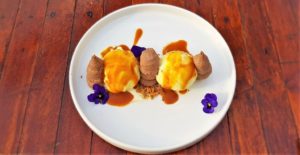 When asked to comment on the seasonal truffle menu, Head Chef Antonio says: "Nothing sums up Italy's winter season like a hint of black truffle, otherwise known as the diamond of gastronomy. They are wild, natural and cannot be cultivated or controlled. A good Italian truffle hunter might only find a few hundred grams each season, which then have to be transported to restaurants and consumers fast, so we're extremely lucky to welcome diners to indulge in these truly gourmet limited additions to our menu."
From the regular A La Carte Menu
Apart from the seasonal menu we also tried few dishes in stuzzichini, antipasti, zuppe and insalata.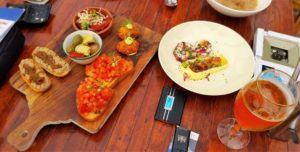 In the small bites it was a mixed sharing platter of Arancini Di Riso, Fettuna Al Pomodoro, Crostini Alla Toscana, Polpette Schiacciate Alla Livornese and Pasto Trattoria Toscana. It was a very nice assortment of tantalizing nibbles each carefully put together.
In starters we tried Vitello Tonnato – poached veal sprinkled with green olives, capers along with a hint of marinated tuna.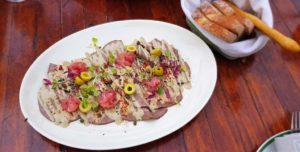 Our favourite in the starters were the bowl of Cozze Alla Tarantina which served as a perfect appetizer to kickstart the cravings. It had delicious mussels smothered in a sauce of tomato and treated with white wine and sprinkled with a hint of chili for that flavor.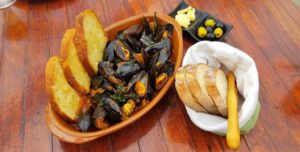 In soups we tried mushroom cream soup which was okay, nothing particularly special but the Insalata Di Polpo or octopus salad with pickled celery, olives and smoked potato puree was a delightful dish to savor.
In Desserts from the Al La Carte menu we tried Panna Cotta Al Cocco E Lamponi – simply put Coconut Panna Cotta sprinkled with nuts crumble and smothered with raspberry sauce. It was delicious.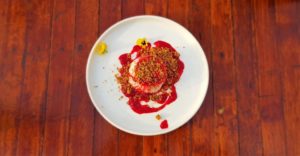 Diners keen to experience the rare funghi, which has been gathered in Italy and shipped to the upscale waterfront Italian dining destination in Souk Madinat Jumeirah can try it before the 1st.
Trattoria Toscana operates a no reservations policy but diners can call +971 (0)4 432 3232 or email: restaurants@jumeirah.com for more information.